2006-2007 Bowl Championship Series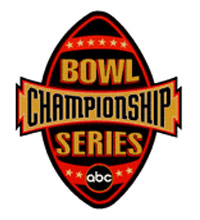 This year's Bowl Championship Series(BCS) will pit it's standard four games, and new this year is a completely separate game for the National Championship.
Rose Bowl - Jan. 1, 2007 - Michigan vs. USC - After Michigan got screwed(give me a break) out of playing a rematch against Ohio State in the NC game, they will head west to face the USC Trojans in the "Granddaddy of Them All." USC, after being upset by UCLA in the final game of the season to squash their own NC hopes, will host Michigan in what is virtually a home game for them. I have no idea what to predict here; USC's speed could give the big slow UM defense some problems, and Dwayne Jarrett is arguably the best WR in the game. But UM has a lot of weapons of their own on offense and a pretty stout defense. Likely the best matchup of all of the BCS games.
Fiesta Bowl - Jan. 1, 2007 -Oklahoma vs. Boise State - Anyone that knows me knows that I'm a pretty big Boise State fan, so much that I even claim to be from Idaho at times just to mess with people. They are the only non-major conference team to appear in a BCS game this year, but they deserve it. Oklahoma comes into the game fresh off of beating Nebraska in the Big 12 Championship game, and were one blown call against Oregon away from having their own chance to play for the National Championship. Word is that RB Adrian Peterson could be back for this game, which would be bad news for Boise State. Either way, I look forward to this game and it should be pretty exciting.
Orange Bowl - Jan. 2, 2007 - Louisville vs. Wake Forest - Yes that says Wake Forest. Um yeah, Louisville wins I guess. Who Cares?
Sugar Bowl - Jan. 3, 2007 - Notre Dame vs. LSU - In a virtual home game for LSU, the Sugar Bowl returns to New Orleans. This one should be pretty funny. LSU should have a field day against Notre Dame's defense on the turf in the Superdome. On the other side of the ball, LSU features a top 5 pass defense, and I really don't see Darius Walker getting much going against their run defense. Final prediction: LSU wins 34-14. Geaux Tigers
BCS Championship Game - Jan. 8, 2007 - Florida vs. Ohio State - Face it, Florida deserves to be there. Michigan had their shot at tOSU, they lost, get over it. I think tOSU is clearly the best team in the country, but don't count out Florida. Much like OSU in 2002, Florida struggled to win a number of games, but find themselves playing for the National Title in the end. Florida's defense is pretty stout, and their stupid spread offense could give OSU some problems. That said, OSU has a pretty great offense of their own, and just as good of a defense. My mind tells me that this could be another USC vs. Oklahoma in 2004, but my SEC heart wants to think that Florida does have a chance here, so I'll be pulling for them as much as it may pain me to do so. Go Gators!